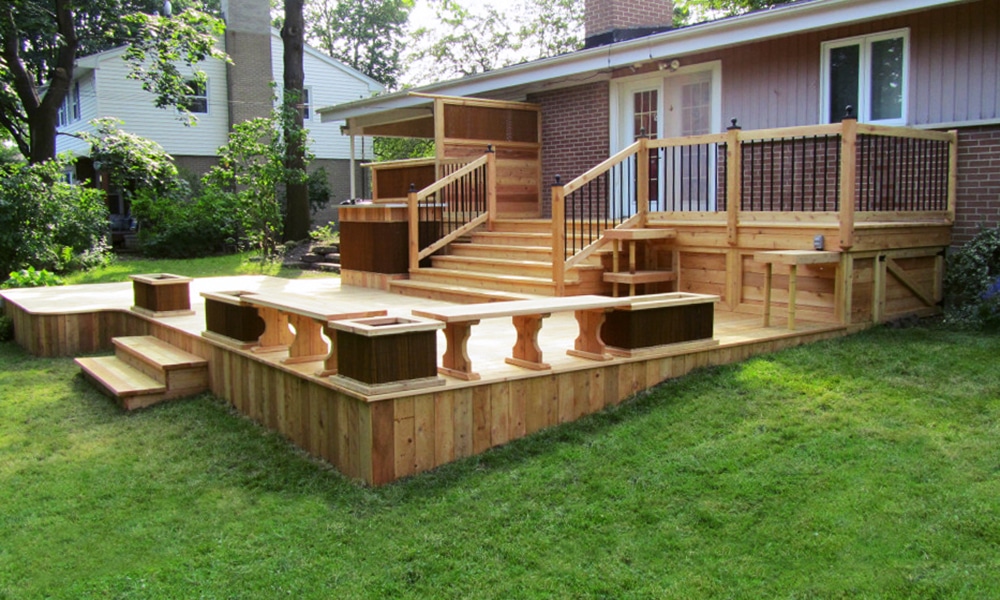 Choosing the right wooden deck for your property can be a daunting task, especially when there are so many options available in the market. The type of deck you choose will largely depend on your property's location, style, and purpose. To help you make an informed decision, we've put together some tips for choosing the right wooden deck for your type of property.
1- Consider the climate: If you live in an area with extreme weather conditions, such as frequent rain or snow, you'll want to choose a wooden deck that is resistant to moisture and rot. Tropical hardwoods like ipe, teak, and cumaru are great choices for humid or wet areas. On the other hand, redwood and cedar are ideal for dry climates.
2- Think about the style: Your deck should complement the style of your property. If you have a traditional or colonial-style home, a natural wood deck with classic railing may be the perfect fit. For a modern or contemporary home, a sleek and simple design with metal or glass railing would be more appropriate.
3- Consider the purpose: Will your deck be used for entertaining guests, relaxing, or outdoor dining? The purpose of your deck will help you determine the size and shape that's best for you. If you plan to host large gatherings, a spacious deck with multiple levels and seating areas may be necessary. However, if you're looking for a cozy and intimate space, a small deck with comfortable seating and lighting would be perfect.
4- Take maintenance into account: Wooden decks require regular maintenance to keep them looking their best. Consider the amount of time and effort you're willing to put into upkeep. For low-maintenance options, composite decking made from recycled materials is a great choice. However, if you prefer the look and feel of natural wood, be prepared to regularly clean and seal your deck to protect it from the elements.
5- Budget: Wooden decks can vary greatly in price depending on the type of wood and design. Determine your budget upfront and discuss your options with a reputable deck builder to find a solution that fits within your financial constraints.
Choosing the right wooden deck for your property can significantly enhance its value and overall appeal. By considering these factors, you can make an informed decision that suits your style, purpose, and budget. Consult with a professional deck builder for expert advice and guidance on selecting the perfect wooden deck for your property.