From outdoor fire pits to water gardens, outdoor living space trends have come and gone. However, there's one trend that survived years of scrutiny― wood pergolas.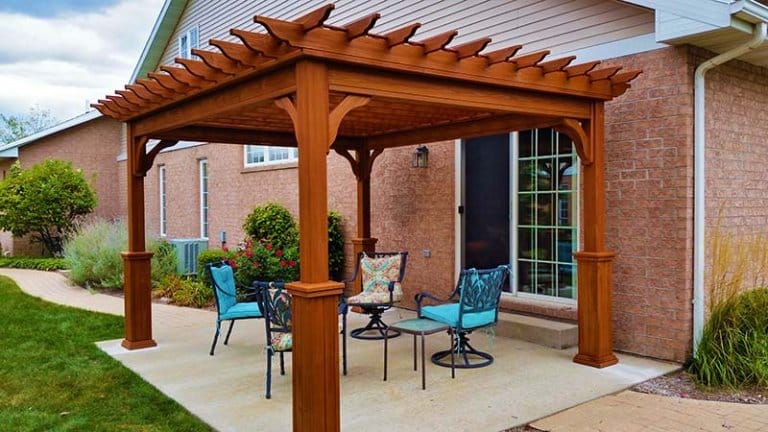 Simply put, wood pergolas are structures forming shaded walkways or sitting areas. They are made of wood pillars arranged vertically or in a criss-cross manner. Pergolas are made to last, and are sturdy enough to withstand extreme heat and cold.
What Are Wood Pergolas Used For? Wood Pergola Functions
Originally, wood pergolas were used for growing vines that can produce fruits. Years later, people realized that they can be used as walkways or shade for patios and wood decks. Fast forward many decades, they are still used for any of the aforementioned reasons.
Aesthetically speaking, wood pergolas are a godsend to your backyard. They can turn a dull garden into an oasis that you and your family will definitely want to hang out at. And did we tell you that they'll surely catch any visitor's attention?
Practically speaking, wood pergolas give much needed shade during hot weather, and serve as a nice place for roasting marshmallows during cold nights.
Why Do You Need A Wood Pergola?
Do you want to take your outdoor space to the next level? Get a wood pergola.
Do you want to transform your backyard into something worth your spending time at? Get a wood pergola.
The truth is, getting a wood pergola is one of the best decisions you can make for the sake of your backyard. They last long, look appealing, and are environment-friendly.
As stated earlier, wood pergolas can survive extreme temperatures. It's because they are made of the strongest type of woods legally available in Deerfield Beach, Florida. Plus, their coating is among the strongest insect-repelling substances in the market (say goodbye to annoying termites).
If this wasn't emphasized enough― wood pergolas are landscaping marvels. They can fit any theme you want― traditional, modern, or even minimalist. Take it from Marie Kondo, a wood pergola sparks joy.
Contrary to popular belief, wood pergolas are environment-friendly. It's because they are made of wood, a renewable resource that is among the most eco-friendly construction materials out there. Plus, you can easily recycle wood after it serves its time.
Wood Pergolas and Wood Decks: A Perfect Match
Peanut butter is to jelly as wood pergolas are to wood decks. Yes, they're the perfect two.
While you can use any structure you want with a pergola (they're that versatile), a wood deck is the best option.
Like wood pergolas, wood decks are sturdy and environment-friendly. So if you're planning on getting an artsy yet totally functional structure to your backyard, a perola-deck combination is the best way to go. Trust us, you won't regret it.
Unlike the easy pergola-deck combination choice, finding a reputable wood pergola and wood deck builder in Deerfield Beach, Florida is hard. To save time, we did the research for you. Click here to see what we found out.